Study protocol

Open Access

Open Peer Review
This article has Open Peer Review reports available.
The CogBIAS longitudinal study protocol: cognitive and genetic factors influencing psychological functioning in adolescence
BMC Psychology
BMC series – open, inclusive and trusted
2017
5:41
Received: 1 September 2017
Accepted: 12 December 2017
Published: 29 December 2017
Abstract
Background
Optimal psychological development is dependent upon a complex interplay between individual and situational factors. Investigating the development of these factors in adolescence will help to improve understanding of emotional vulnerability and resilience. The CogBIAS longitudinal study (CogBIAS-L-S) aims to combine cognitive and genetic approaches to investigate risk and protective factors associated with the development of mood and impulsivity-related outcomes in an adolescent sample.
Methods
CogBIAS-L-S is a three-wave longitudinal study of typically developing adolescents conducted over 4 years, with data collection at age 12, 14 and 16. At each wave participants will undergo multiple assessments including a range of selective cognitive processing tasks (e.g. attention bias, interpretation bias, memory bias) and psychological self-report measures (e.g. anxiety, depression, resilience). Saliva samples will also be collected at the baseline assessment for genetic analyses. Multilevel statistical analyses will be performed to investigate the developmental trajectory of cognitive biases on psychological functioning, as well as the influence of genetic moderation on these relationships.
Discussion
CogBIAS-L-S represents the first longitudinal study to assess multiple cognitive biases across adolescent development and the largest study of its kind to collect genetic data. It therefore provides a unique opportunity to understand how genes and the environment influence the development and maintenance of cognitive biases and provide insight into risk and protective factors that may be key targets for intervention.
Keywords
Cognitive bias
Genetic variation
Polygenic sensitivity scores
Longitudinal
Adolescents
Psychopathology
Anxiety
Depression
Impulsivity
Background
Genetic variation and individual differences in selective cognitive biases (CBs) have been associated with psychological functioning in largely independent lines of research. The aim of the CogBIAS longitudinal study (CogBIAS-L-S) is to encourage the integration of these two fields of research in order to investigate the cognitive and genetic factors that are involved in the development of emotional vulnerability and resilience in a healthy adolescent sample. The fundamental hypothesis in the field of cognitive bias research is that CBs are habitual, deeply engrained ways of responding to affective information, that are associated with emotional vulnerability and resilience. The fundamental hypothesis in the field of genetic psychiatry research is that genetic and environmental factors interact to increase risk for psychopathology. The CogBIAS hypothesis [1] combines and extends these hypotheses by stating that at least some gene–by-environment interaction (GxE) effects on psychological functioning may be mediated by individual differences in CBs, and that certain genetic profiles may represent heightened sensitivity to the learning environment in a "for better or for worse" manner [2, 3]. Some evidence indicates that allelic variation on genes that are active in the brain are likely to play a role in how easy or difficult it is to develop such "negative" or "enhancing" CBs [4], so the identification of genetic profiles and how they relate to the development of CBs is a vital first step in understanding pathways to psychopathology and wellbeing. This research, if successful, could inform the development of future personalized interventions designed to improve emotion regulation skills and boost a more resilient cognitive style [1, 5].
Adolescence is considered to be a risky developmental period, as prevalence and onset of depression and anxiety increases significantly during this time [6, 7]. Emotional problems developing during adolescence can have extremely deleterious effects on subsequent development and there is a high probability of disorder reoccurrence in adulthood [7]. Many significant neurodevelopmental changes take place during adolescence, which lead to dramatic social reorientation and result in changes in motivation, as well as heightened affective responding [8–11]. This research pinpoints adolescence as a period of heightened sensitivity, particularly to the social environment. More research is needed to elucidate neurocognitive mechanisms associated with emotional vulnerability and resilience during this age period [12, 13]. There is growing evidence that CBs contribute to the onset and prevalence of early psychopathology [13–15], however much of this research is correlational and often focuses on specific CBs (e.g., biased attention) in association with specific emotional disorders (e.g., anxiety). CogBIAS-L-S aims to provide a broader picture by assessing a multitude of CBs in a large sample of healthy adolescents at three narrow time points, in order to investigate the developmental trajectory of a range of CBs on psychopathological, as well as resilient outcomes during normal development.
In keeping with the CogBIAS hypothesis, as well as evidence from epidemiological research that highlights the importance of GxE on psychological functioning [16], we will also measure genetic variation and subjective ratings of life experiences, in order to test the hypothesis that heightened biological sensitivity predicts maladaptive outcomes, mediated by negative CBs in combination with adversity, as well as adaptive outcomes, mediated by enhancing or protective CBs in combination with supportive environments [1]. The integration of cognitive and genetic methods will provide important new insights into psychological functioning across adolescence.
Cognitive biases
The evidence that emotional vulnerability is associated with CBs that magnify threat-related information and negativity, relative to benign or positive information, is strong [13, 17–21]. It has been proposed that these CBs become habitual and automatic and so, over time, result in deeply engrained ways of thinking that infuse the brain with a negative processing style. As most cognitive and neural processes operate automatically, and at an implicit level, such CBs are therefore extremely difficult to undo [1]. Thus, a downward spiral of negative CBs leads to a preponderance of negative over positive emotions that, in time, can result in more entrenched negative biases. This sequence is a hallmark of emotional vulnerability that, in susceptible people, can all too easily tip into a variety of emotional disorders such as anxiety and depression. A contrasting upward spiral of positivity is characteristic of emotional resilience, and, as enhancing CBs and processes focus selectively on the positive, rather than the negative and benign aspects of life, positive emotions tend to gradually dominate leading to an upwards spiral that can boost flourishing and optimal mental health. Those who are vulnerable and fragile, and those who enjoy optimal mental health, experience these downward or upward patterns on a regular basis, which unfold into deeply habitual cognitive and neural processes that are likely to have a profound influence on a person's life trajectory.
Selective CBs in attention, interpretation and memory are often associated with mood-related outcomes [13, 17, 18, 20]. Attention bias refers to the automatic preferential processing of salient information in the environment. While attention biases towards threat-related information have been primarily associated with anxiety in both adults [18] and children [17], biased attention towards negative stimuli is also characteristic of depression [22]. Conversely, attention bias for positive stimuli may represent a protective bias related to resilience [23]. Interpretation bias refers to the tendency to interpret inherently ambiguous situations as either positive or negative, and has been associated with both anxiety and depression [24]. Memory bias refers to the tendency to selectively remember positive or negative information, and a memory bias, particularly for negative self-referent information, has been shown to be characteristic of depression [20]. While previous research has tended to assess mood-related CBs in isolation, CogBIAS-L-S aims to integrate the measurement of CBs in order to understand their relative importance on psychopathological, as well as resilient outcomes. Investigating the development of multiple CBs in this way will allow us to test the combined cognitive bias hypothesis [25], which posits that CBs do not occur in isolation, but rather influence one another and interact to maintain psychopathological outcomes. The current study will add to the literature by providing a rich data-set of multiple CBs at three narrow time-points across adolescent development.
In contrast to biases in attention, interpretation and memory, CBs in action-tendency to approach reward related stimuli have been associated with impulsivity-related outcomes [26, 27]. To illustrate, in an independent field of research, CBs in action-tendency to approach reward related stimuli have been implicated in the development of addictions, such as high levels of drinking behaviour [26, 28]. This research has recently been extended to the food and obesity literature, and it has been found that food activates the same neural reward substrates as addictive drugs [29]. Action-tendencies to approach food stimuli in combination with low cognitive control have been shown to predict overeating [27]. It is theorised that increased sensitivity to reward related cues coupled with low cognitive control predicts externalising problems, such as overeating and substance misuse [26]. Until recently almost all research on action-tendencies has been conducted in adult samples, therefore not only will this study extend the research to adolescent populations, it will offer the first integration of research between CBs in mood-related outcomes with CBs in action-tendencies towards reward, which should facilitate the integration of these two fields. CogBIAS-L-S will investigate how such CBs are related to mood-related self-report variables on the one hand, and impulsivity-related variables on the other, including self-reported maladaptive eating and risk-taking.
Genetic variation
The role of genetics in psychological functioning has been investigated with a variety of methods, such as twin studies and molecular genetic studies. Twin studies have uncovered the relative contribution of genes to psychological disorders and traits. For example, across many studies of adult twin populations, it is estimated that about 40% of variance in anxiety and depression can be explained by genetic factors, with the remaining variance explained by non-shared environmental factors [30, 31]. This heritability estimate is similar in older adolescent populations, while the shared environment plays more of a role in childhood [16, 32]. Twin and family studies also show that genes and environments do not operate in isolation, but work together through several forms of complex interplay including gene-environment correlation (rGE) and gene-environment interaction (GxE). For example, those at a high genetic risk of depression have been shown to be more likely to experience psychosocial adversity (rGE) and be more sensitive to its effects (GxE) than those with a low genetic risk [33].
Molecular genetic evidence for GxE has been reported for several genetic variants across multiple candidate genes. One of the most extensively researched variants in relation to depression is the serotonin transporter linked polymorphic region (5-HTTLPR), a 43 bp insertion/deletion polymorphism in the 5′ promoter region of the serotonin transporter gene which results in a short (S) and long (L) allele. There is evidence that the variant is functional with the S allele leading to a 50% reduction in serotonin expression and consequently higher concentrations of serotonin in the synaptic cleft [34]. In a seminal study in 2003, Caspi et al. reported that individuals with the S allele of the 5-HTTLPR were at an increased risk of depression, following life stress or childhood maltreatment. In contrast, those with the L allele appeared to be protected from the negative effects of adversity [35]. These findings have been subsequently replicated and extended to several further phenotypes including anxiety sensitivity [36] and depressive symptoms in adolescence [37]. Similar findings have also been reported for other candidate genes implicated in the stress response system (FKBP5, NR3C1) [38, 39], dopamine transmission system (DRD2) [40] and neurogenesis factor (BDNF) [41], amongst others. Although some promising findings with regard to GxE have been reported [42], the mechanisms of GxE are poorly understood, which has led some researchers to question the robustness of such findings [43]. More research is needed to elucidate the specific genetic variants and environmental conditions that give rise to GxE effects.
The differential effects of stress by genetic factors identified in GxE studies were originally conceptualised in diathesis-stress models. This model states that certain genes predispose individuals to the negative effects of adversity leading to mental illness [44]. However, an extended version of this theory is the "differential susceptibly hypothesis" (DSH), which posits that rather than risk factors alone, genetic variants may increase susceptibility to both negative and positive environments "for better and for worse" [2, 3]. This suggests that while the most biologically sensitive individuals will show adverse outcomes in combination with adverse environments, they will also benefit disproportionately from supportive and enriching environments [2, 3].
Many genetic variants implicated in GxE show patterns of association consistent with the DSH, with particularly promising findings from intervention studies [45]. Nevertheless, findings have failed to replicate consistently, leading to both positive [46] and negative meta-analyses [47]. One explanation for these findings is that sensitivity to the environment, like other psychological phenotypes, is a polygenic trait and results from the additive effects of multiple genetic variants of small effect [48]. Polygenic Sensitivity Scores (PSS) provide a marker of biological sensitivity to the environment that can be derived from cumulating alleles associated with heightened sensitivity into one score. For example, Belsky and Beaver [49] created a PSS based on five candidate genes affecting the serotonin and dopamine systems, and found that individuals with the highest number of sensitivity alleles showed both the best and worst psychological outcomes relative to childhood experiences, supporting the DSH. This has also been shown in relation to resilience in childhood, as a PSS derived from multiple genes affecting neurotransmission predicted the best and worst psychological functioning relative to the presence or absence of childhood maltreatment [50]. The availability of genome-wide data has allowed for more recent studies to extend this approach beyond candidate genes to derive PSSs from genetic variants across the entire genome. For example, a recent study using a novel approach comparing identical twins derived a genome-wide PSS that significantly moderated the effects of parenting on emotional problems in a manner consistent with the DSH and was a good predictor of response to psychological treatments in children with anxiety disorders [51].
In CogBIAS-L-S, we will investigate the interaction between genetic variants and positive and negative experiences across adolescent development. This will allow us to assess whether biological sensitivity predicts "for better and for worse" outcomes in this age group and to identify new genetic factors associated with psychological and cognitive phenotypes that may remain hidden by interactive effects with the environment [52]. The availability of whole-genome genetic data will allow us to investigate the role of current and emerging genome-wide PSSs as well as candidate genetic variants previously shown to have a significant effect on mood and impulsivity related outcomes.
The CogBIAS hypothesis
The CogBIAS hypothesis [
1
] offers a theoretical model of psychological functioning, which integrates cognitive and genetic research. As depicted in Fig.
1
, CBs act as mediating mechanisms in the pathway to psychological functioning between genetic moderation of the environment (GxE). The development of negative or enhancing CBs is dependent on biological sensitivity to the effects of the environment, which can be either supportive or unsupportive, leading to different outcomes. While negative CBs increase risk for psychopathology and decrease wellbeing, enhancing CBs are likely to increase wellbeing and decrease risk for psychopathology. CogBIAS-L-S will be able to test this hypothesis, as an in-depth assessment of CBs and psychological variables will be taken at three narrow time points across adolescence, as well as genome-wide testing conducted at the beginning of the study. A similar recent model of adolescent psychopathology has highlighted the importance of CBs as mediating factors between genetic risk and anxiety/depression outcomes [
13
]. However, these hypotheses have yet to be tested using a multitude of CBs and respective outcomes related to both psychological vulnerability and resilience.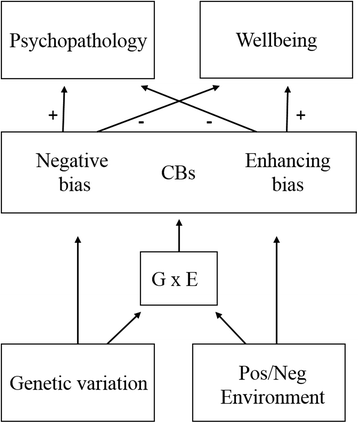 Preliminary evidence supports the potential role of genetics in the development of CBs. In an earlier study, strong attention biases towards threat-related images or towards positive images was trained in 5HTTLPR S allele carriers, whilst no training effects were observed in those carrying the L version of the gene, suggesting that the S allele may act as a sensitivity gene that moderates the learning environment in a "for better and for worse" manner [4]. In support of this, a recent meta-analysis has found an association between attention bias for threat and the S allele with a medium effect size [53]. Attention bias should be considered a dynamic response to the environment, as vigilance for threat can be adaptive under stressful conditions [54], therefore investigating attention bias in relation to GxE is an important next step. Furthermore, the general consensus in the literature is that moving away from single candidate gene studies in favour of assessing polygenic effects on outcomes is appropriate, as comprehensive aggregated scores, such as PSS, are likely to explain more variance in behaviour than single genes [55]. Recent developments in PSS will allow us to investigate more complex models of GxE influencing CBs in attention, interpretation, memory and action-tendency, and how this relates to adolescent psychological functioning.
Method
Study design and aims
CogBIAS-L-S will follow a large sample of over 500 adolescents for approximately 4 years and will test participants at three time points when they are 12, 14 and 16, in order to assess CBs (in attention, interpretation, memory and action-tendency), life experiences, and a range of subjective measures (including anxiety, depression, resilience, impulsivity and risk-taking) at each time point. Genetic variation will be assessed once at Wave 1. This research design is focused on a narrow developmental period and includes a wide range of cognitive and subjective factors, which will help to identify psychological profiles associated with emotional vulnerability and resilience, and insight into risk and protective factors that may be key targets for intervention strategies designed to improve psychological functioning.
Sample size
A sample size of 500 is considered highly powered for detecting even small effects in the cognitive bias domain. Genetic studies require larger samples, due to small effect sizes and expected complex interactions with multiple genes and the environment. Previous GxE studies have been criticised for using small sample sizes (e.g. N < 200), which may be statistically unstable, therefore a minimum sample size of 300 has been suggested to be adequate for such studies [47]. We aimed for a sample size of 500 to balance the need for a large enough sample to detect GxE with the feasibility to collect detailed psychological data. We also aimed for a large sample to allow for the potential decrease in sample size with each wave of assessment.
Recruitment
Participants will be recruited through their schools, by writing emails to head teachers or psychology teachers describing the aims of the study, the commitment needed from the school, and offering to work closely with the school on extracurricular projects, such as giving talks to pupils and organising work experience opportunities in our research lab. We aim to recruit ten cohorts from a variety of schools in the South England area, including private and comprehensive schools, and equal numbers of boys and girls.
Inclusion criteria
Inclusion criteria for the study encompasses having a parent and adolescent able to give written informed consent/assent, being aged between 12 and 16, being able to speak English fluently, as well as attending a secondary school in England that is taking part in the study.
Exclusion criteria
Exclusion criteria includes currently suffering with a psychological disorder or any neurological impairment or learning disability that would make them unable to take part. These criteria will be indicated by parent self-report.
Procedure
Testing will take place at participant's schools, or in some cases at the Department of Experimental Psychology, University of Oxford. Each assessment wave comprises two sessions lasting 1 h each, which will either be completed back-to-back, or on different days, depending on the availability to book testing space. Participants will complete test sessions in small groups in computer labs and will be asked to conduct assessments in exam conditions, therefore being silent and not looking at their neighbour's computer screen. Participants will be asked to give written assent after the study procedure is explained to them. They will complete a batch of cognitive tasks, followed by questionnaires in each session in the same order. Table
1
outlines the testing procedure undertaken at Wave 1. Saliva samples will be collected at the end of test session two, only once at Wave 1.
Table 1
Testing procedure for CogBIAS longitudinal study (Wave 1)
| Session one | Session two |
| --- | --- |
| Cognitive tasks: | Cognitive tasks: |
|  Flanker task |  Memory bias task |
|  Dot-probe task |  Balloon Analogue Risk task |
|  Adolescent Interpretation and Belief questionnaire |  Approach bias for food |
| Questionnaires: | Questionnaires: |
|  Self-esteem |  Impulsivity |
|  Worry |  BIS / BAS |
|  Anxiety & Depression |  Risk taking |
|  Peer victimisation |  Eating behavior |
|  Experiences |  Mental Health |
|  Rumination |  Resilience |
|  Pain questionnaires |  + |
| |  Saliva sample |
Measures
Body-mass-index
Body-mass-index (BMI) will be calculated (BMI: kg/m2) from measuring participant's height (meters) and weight (kilograms) using a Seca portable height measure and Salter portable weight scales.
Genotyping
Saliva samples will be collected using DNA Genotek Oragene OG-500 collection kits in accordance with the supplied instructions and genomic DNA extracted using an established protocol and stored at −80 °C. The samples will be genome-wide genotyped using the Illumina Human Omni express-24, which captures 710,000 single nucleotide polymorphisms (SNPs) from across the genome. This chip assays the majority of genetic variants implicated in sensitivity to the environment, either directly or through imputation. It is therefore considerably more cost effective and requires less DNA per variant than candidate-gene genotyping. Our genome-wide approach will also allow analyses using existing and emerging whole-genome polygenic scores and hypothesis-free genome-wide analyses on integration with further data. Genome-wide data will be subject to rigorous quality control using an established pipeline and additional SNPs imputed using the 1000 Genomes reference panel. In addition to genome-wide genotyping, we will also genotype several genetic variants implicated in sensitivity to the environment, which are not captured by genome-wide arrays including STin2 and DRD4 using established protocols. The 5-HTTLPR will be genotyped simultaneously with rs25531, a SNP proposed to modify the effects of the L allele on gene expression, using a two-stage method. In the first stage short and long alleles will be determined by polymerase chain reaction (PCR). In the second stage, the PCR product is incubated with a restriction enzyme (Msp1), which cuts the resulting product depending on the rs25531 genotype. Fragment lengths will be compared using gel electrophoresis and the specific combination of fragments produced will be used to determining genotype.
Statistical analysis
We will use a multilevel moderated mediation model [99] in order to test the CogBIAS hypothesis. This model will test whether CBs mediate the effect of the environment on the development of psychopathological outcomes across three time points and whether PSS moderates the influence of the environment on the development of CBs. For example, we will test whether negative experiences predict negative selective CBs, which in turn predict prevalence of depressive symptoms and whether a PSS based on depression-related genetic alleles moderates this relationship. Data from three time points will be used in the model, in order to assess these moderated mediated effects across adolescent development. A benefit of using a longitudinal design is the ability to test whether experiences and CBs in early adolescence predict future psychopathological outcomes, rather than only using a correlational design, which does not allow for interpretation of causality. As well as testing the CogBIAS hypothesis, which integrates cognitive and genetic research, we will also test more specific research questions within each of these topics, such as testing the combined cognitive bias hypothesis [25], which will largely look at correlations between the various CBs.
Discussion
Investigating cognitive and genetic factors associated with psychological functioning across adolescent development will provide an important proof of principle for the integration of these two literatures. Recent reviews have highlighted that CBs have yet to be well integrated into the literature on biological factors predicting psychopathology [1, 13]. CogBIAS-L-S will allow the investigation of many research questions facilitating the integration of these two fields, as well as addressing many more specific research questions. The cognitive bias literature will benefit from the measurement of multiple CBs across three time points, which will allow for investigation of the combined cognitive bias hypothesis [25] and improve understanding of the developmental trajectory of anxiety, depression and emotional wellbeing and resilience during this important developmental period [13]. Further, developing a greater understanding of CBs and related disorders will lay the groundwork for the development of better intervention practices designed to improve psychological functioning. The genetic psychiatry literature will benefit from the ability to test novel PSS in interaction with environmental experiences across adolescence, which will improve understanding of GxE effects and heightened biological sensitivity to the environment across the lifespan. CogBIAS-L-S is the largest study of its kind to collect longitudinal data on multiple CBs, as well as comparative genetic data, which will provide important insight into the complex interplay between individual and situational factors predicting optimal development in adolescence.
Study status
CogBIAS-L-S is currently on-going. Data collection for Wave 1 commenced in October 2014. Data has been collected so far up to Wave 2. Data collection for Wave 3 will cease by October 2018. Test sessions were spaced approximately 18 months apart.
Recruitment
We contacted 51 schools in the South England area. Thirty percent of schools contacted were initially interested. The final sample included 20% of the schools contacted, which was made up of ten cohorts (from nine different schools). Once the schools had given permission for their pupils to be contacted to take part in the study, teachers arranged for information packs (containing a detailed parent information sheet, adolescent information sheet and parent consent form) to be sent home either electronically or in paper form. We received parental consent for 530 adolescents to take part. Test sessions were organised by each individual school cohort. The final sample tested at Wave 1 included 504 adolescents (
M
age = 12.9,
SD
 = .9), of which 55.2% were female. The majority of cohorts were in year 8 (6:10), with the addition of two in year 7 and two in year 9. The majority of cohorts were from same-sex schools (6:10). Sample demographics (at Wave 1) for each cohort are presented in Table
2
.
Table 2
Sample demographics for CogBIAS longitudinal study (Wave 1) by cohort group
| Variable | Total | X1 | X2 | X3 | X4 | X5 | X6 | X7 | X8 | X9 | X10 |
| --- | --- | --- | --- | --- | --- | --- | --- | --- | --- | --- | --- |
| N | 504 | 15 | 30 | 62 | 47 | 13 | 34 | 119 | 104 | 54 | 26 |
| Age (M, SD) | 12.9 (.9) | 12.0 (.5) | 11.3 (.4) | 12.9 (.4) | 12.9 (.3) | 11.9 (.5) | 12.3 (.5) | 13.5 (.6) | 12.6 (.7) | 13.9 (.5) | 12.7 (.5) |
| Year group (range) | 7–9 | 7 | 7 | 8 | 8 | 8 | 8 | 9 | 8 | 9 | 8 |
| Gender (% female) | 55.2 | 40.0 | 50.0 | 100.0 | 100.0 | 100.0 | 47.1 | 0.0 | 100.0 | 0.0 | 57.7 |
| Ethnicity (% Caucasian) | 78.9 | 93.3 | 86.7 | 72.6 | 80.8 | 69.5 | 61.1 | 89.1 | 71.1 | 83.4 | 96.1 |
| Mother's education level (M, SD) | 3.6 (1.3) | 3.9 (1.4) | 2.9 (1.4) | 3.6 (1.1) | 2.9 (1.4) | 4.1 (1.4) | 2.4 (1.1) | 4.2 (1.1) | 3.9 (1.0) | 3.5 (1.5) | 3.0 (1.2) |
Genotyping
Of the 504 participants assessed in Wave 1, 499 (99%) provided a saliva sample. Samples with an adequate yield of DNA following extraction (200 ng, n = 496) were run on the genome-wide array in accordance with the manufacturer's instructions. Following rigorous quality control 594,667 SNPs and 491 individuals remained for analyses with a further 5,129,755 SNPs successfully imputed from the 1000 Genomes reference panel. A total of 496 participants (99.4% of those providing a saliva sample) were also successfully genotyped for the 5-HTTLPR and rs25531 using the two-stage method.
Abbreviations
CBs:

Cognitive biases
CogBIAS-L-S:

CogBIAS longitudinal study
DSH:

Differential susceptibility hypothesis
GrE:

Gene-by-environment correlation
GxE:

Gene-by-environment interaction
PSS:

Polygenic sensitivity scores
Declarations
Acknowledgements
We would like to acknowledge all members of staff who helped with testing at the schools. Teachers who organised testing sessions, computing staff who set up our programs and pupils who took part, made this research project possible and a joy to conduct.
Funding
This work was supported by the European Research Council (ERC) under the European Union's Seventh Framework Programme (FP7/2007–2013)/ERC grant agreement no: [324176].
Availability of data and materials
Data collection for the study is still on-going. The authors will aim to publish data-sets along with any research findings that are published, in order to support open science. Data that is collected will also be available to share with other researchers upon reasonable request to the first or last author.
Authors' contributions
EF developed the CogBIAS hypothesis and was awarded an ERC Advanced Investigator Award to conduct the study. CB coordinated the beginning of the study including programming the measures. CB, AS, SP and LH were research assistants for the study, collecting data. CB, AS and SP analysed data. CB, AS, SP, LH and EF contributed to the development of novel research questions. RK and JV coordinated the genotyping analyses, as well as offering guidance in this area. CB and EF wrote the bulk of the protocol paper and all authors read and approved the final manuscript..
Authors' information
EF is the principal investigator for the study and is currently Professor of Experimental Psychology at the University of Oxford. CB was a research assistant at the beginning of the study and is currently a PhD student in Experimental Psychology at the University of Oxford.
Ethics approval and consent to participate
Ethical approval was obtained from the National Health Service (NHS) National Research Ethics Service (NRES), which provided approval to collect genetic material as well as administering psychological measures. The study received ethical approval from the NRES Committee South Central (14/SC/0128) on the 30th September 2014 (Project ID: 141,833). Written consent was obtained from parent consent forms and adolescent assent forms for each adolescent participating in the study.
Consent for publication
We obtained written consent to publish research findings from parent consent forms and adolescent assent forms, with the explanation that data would be analysed at a group level, which would not identify the identity of any individual participant or school taking part.
Competing interests
The authors declare that they have no competing interests.
Publisher's Note
Springer Nature remains neutral with regard to jurisdictional claims in published maps and institutional affiliations.
Open AccessThis article is distributed under the terms of the Creative Commons Attribution 4.0 International License (http://creativecommons.org/licenses/by/4.0/), which permits unrestricted use, distribution, and reproduction in any medium, provided you give appropriate credit to the original author(s) and the source, provide a link to the Creative Commons license, and indicate if changes were made. The Creative Commons Public Domain Dedication waiver (http://creativecommons.org/publicdomain/zero/1.0/) applies to the data made available in this article, unless otherwise stated.
Authors' Affiliations
(1)
Department of Experimental Psychology, University of Oxford, Oxford, UK
(2)
Department of Anaesthesiology, Perioperative and Pain Medicine, Stanford University, Stanford, USA
(3)
Department of Biological and Experimental Psychology, Queen Mary University London, London, UK