Research article

Open Access

Open Peer Review
This article has Open Peer Review reports available.
"These people, you just guide them until they become these people": learning to become a frequent indoor tanner
BMC Psychology
BMC series – open, inclusive and trusted
2017
5:11
Received: 9 November 2016
Accepted: 24 March 2017
Published: 4 April 2017
Abstract
Background
Many young women experiment with using indoor tanning beds with some becoming regular users. There is a dearth of research focused on factors related to the development of regular tanning. This study was designed to gain an in-depth understanding of the experiences of a regular indoor tanning bed user for the purpose of discovering working hypotheses related to the development of this behavior. The article thesis is that initial interactions with tanning salon employees transmit insider knowledge that serves to encourage the regular use of indoor tanning beyond experimentation.
Methods
We used Spradley's ethnographic interviewing technique to conduct six iterative interviews with a key informant who was an active indoor tanning bed user and former salon employee. The research was completed in the United States in 2015.
Results
The informant described her experiences as a salon employee including her interactions with salon patrons. The informant was trained as a salon employee to talk about tanning as a complex process that requires multiple salon visits to achieve desired results and to develop rapport with salon patrons to be viewed as an important source of guidance and advice. In the informant's experience, indoor tanning users who viewed tanning as a complex process and felt connected to salon employees were more receptive to purchasing larger amounts of bulk tanning sessions and committing to purchasing salon memberships.
Conclusions
Findings provide insights into our understanding of the development of regular tanning behavior and we propose working hypotheses about this behavior to be examined in future research. There are also implications for policy makers to reduce excessive tanning behaviors including considering point-of-sale regulations that limit sales techniques of salon employees and pricing restrictions.
Keywords
Ethnographic interview
Key informant
Indoor tanning
Melanoma prevention
Skin cancer prevention
Young adults
Background
The use of artificial ultraviolet radiation-emitting indoor tanning beds is associated with an increased risk of skin cancer, including the deadly melanoma [1]. Despite the risks, nearly 10 million people use indoor tanning (IT) each year in the United States [2]. IT is most popular among young adult Caucasian females with nearly 1 in 3 reporting IT use in the past year and nearly 1 in 5 reporting regular use, defined as using IT 10 or more times in the past year [3]. Although any lifetime use of IT is associated with an increased risk of melanoma and other skin cancers, the risk is exponentially higher with regular use [4].
Much of the research related to behavioral reasons for IT has used survey methods to apply constructs from various health behavior theories (e.g., Theory of Planned Behavior [5] and Social Cognitive Theory [6]). Researchers have shown that appearance enhancement is the primary motivation for IT among most users [5–7]. IT users believe that tanning, or darkening one's skin color through ultraviolet radiation exposure, leads to increased attractiveness and confidence in appearance and also believe that their peers use and approve of IT [6–9]. Exposure to beauty magazines is associated with positive tanning attitudes [10], which may lead IT users to believe that being tan is a defining characteristic of an "attractive" woman [7]. Many young women first use IT as high school students in the weeks leading up to certain events that represent rites of passage including school dances or birthdays [11, 12]. The popularity of IT, the shared view that a tan is attractiveness, and tanning narratives surrounding special events suggest tanning plays an important part of youth culture among young Caucasian women and explain why many experiment with IT. A subset of IT experimenters progress into prolonged or regular tanning, greatly increasing their risk of developing skin cancer, but there is a dearth of studies designed to identify factors underlying the development of regular IT. Our goal in conducting this study is to gain an in-depth understanding of the unique experience of a regular IT user for the purpose of discovering working hypotheses related to the development of this behavior.
This study is guided by the ethnographic perspective that discovery of cultural knowledge is a valuable first step in exploring understudied behaviors. Cultural knowledge is defined as the insider information that is shared among a group of people, learned through sociocultural experiences and interactions, and guides behavior [13]. The current research utilized a series of ethnographic interviews with a single key informant to gain insights into tanning culture by capturing the language and terms used when describing her experiences as a tanner [13, 14]. Our approach began with asking general, descriptive questions to avoid biasing the informant's responses by using questions developed based on the interviewer's assumptions or interests [14]. Information gained from early interviews guided the development of subsequent interviews and analyses to produce thematic summaries. The use of multiple ethnographic interviews provides the unique opportunity to gather information on an ongoing basis, get greater clarification and understanding, and check the interviewer's understanding and interpretation with the informant [14, 15]. These interviews produce a rich description of the insider information that guides IT, which is utilized to formulate working hypotheses about the underpinnings of this behavior [16, 17].
As is common in the ethnographic interview discovery process [14, 16], the thesis of this paper emerged during the interview process. For most experimenters, IT first occurs at a tanning salon. Assuming that many tanners know little about IT prior to their first salon visit, their view of tanning is likely to be influenced by their encounters with salon employees. The thesis of this article is that the initial interactions between inexperienced salon patrons and salon employees serve to provide cultural knowledge and rules about IT that encourage continued use of IT beyond experimentation. This research is novel in describing such aspects of the salon employee-patron relationship.
Results
Participant
We received email responses to our flyers by seven individuals. We were able to screen and schedule initial interviews with three participants. The choice to focus on the informant in this report was made because she had a wealth of unique expertise that we were able to deeply explore over the course of several interviews. A second participant was interviewed once as we uncovered she was an active indoor sunless tanner rather than UV tanner. A third participant was interviewed on three occasions at which time we felt that the knowledge gained from these interviews was incremental above that gained from interviews with the chosen informant.
The informant, Jessica (real name withheld), was 22 years old, self-identified as non-Hispanic White, and lived in the Northeastern U.S. We conducted a total of six interviews with her. The first five interviews were conducted in a 1-month span between June and July 2015 with the final interview in October 2015. She had first used her local tanning salon to prepare for her junior prom. She began a part-time job working at this salon after high school and continued throughout the next year. Jessica provided a depth of knowledge about many aspects of IT from her experience as a tanning salon employee, or salon sales associate, and her experience as a tanner in the years since leaving the job. She continues to use this local salon and tans two to three times per week during the winter and spring months. She is less likely to use IT during the summer, as she prefers to instead tan by sunbathing at a nearby beach.
The tanning salon
Jessica's salon is located near her home and is one of several in a small local chain. It is located within a strip mall that also houses a gym and a nail salon. The salon has a front desk near the entrance and a small row of chairs for waiting customers, or guests. Behind the desk is a hallway with several doors on either side leading to small, enclosed rooms that contain various types of tanning beds. A salon sales associate is stationed at the front desk and is responsible for greeting each guest, confirming payment for tanning, assigning them to the appropriate tanning bed/room, selling tanning lotions, and advising them on the beds. In her salon, the sales associate was in control of starting and timing the tanning bed sessions.
Types of tanners and their reasons for tanning
A grand tour question in the first interview asked the informant to describe the other people she might see when at the salon. In recalling her experiences as both a tanner and a salon sales associate, Jessica described IT users both in terms of their varying knowledge and history of IT use (i.e., types of tanners) as well as their various reasons for tanning (Fig.
1
). Speaking about IT users in these terms became a reoccurring theme and two important cultural domains emerged related to various types of tanners and various "reasons that people come in to tan".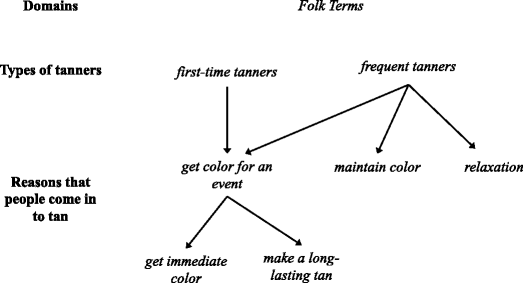 First time tanners
have never before used or are inexperienced with IT and, as described later, require a great deal of information from salon employees:
"I've sat there for like half an hour, 45 min just explaining everything to them. They're like 'I didn't know there was this much to know about tanning.'" (Interview 1)
Most
first-time tanners
come in to tan to
get color for an event. Get color
refers to tanning for the purpose of getting a darker or more tanned appearance.
Events
are certain celebrations or milestones during which "you want to look good because the spotlight's on you" and include proms, weddings, graduations, and birthdays. For these events, the focus is on getting
immediate color
to quickly get a tan for the upcoming event. A
first time tanner
might say:
"'I need to be tan for my wedding'… 'I just want a glow. I didn't want to be the same color as my dress.'" (Interview 2)
Other events include upcoming vacations in sunny locations or the weeks prior to summer. For these events, the focus is to make a long-lasting tan by obtaining a base tan with IT prior to the event. Participants with a base tan believe they will be less concerned about getting sunburned on their vacation and will use the prolonged sun exposure during vacation or the summer to build a tan rather than rely on IT.
Frequent tanners
are at the salon often enough to be recognizable to sales associates and make up an estimated 80% of the salon clientele. Salon associates often learn personal information and have conversations with
frequent tanners.
"You get to know them and they're always interested in who's working… you build relationships with the people and they end up, I guess, trusting you with what you're doing with them in the beds." (Interview 1)
Frequent tanners
tend to fall into one of two subcategories.
Consistent
frequent tanners have a set schedule and tan on certain days each week. This schedule often revolves around times they are near the salon or after they finish their workday or gym workout.
Consistent
tanners use the same type of tanning bed for a similar amount of time each session.
Educated
frequent tanners have a deeper understanding of tanning and tend to purposefully vary their tanning to more closely match the patterns recommended by the salon for maximum tanning results. The tanning behavior of
educated
tanners is less scheduled compared to
consistent
tanners and they are more likely to go tanning when
they feel like it
. Unlike
consistent
tanners who are likely to maintain a certain level of tan given their consistency in exposure,
educated
tanners are more likely to go for periods of several days, weeks, or even months between regular IT use which results in a less consistent
color
. Jessica considered herself to be an
educated
tanner, described tanning as
work
, and actively monitored her tan level and adjusted her IT to achieve her desired results.
Educated
tanners sometimes experience periods of time when they do not feel motivated to go to the tanning salon, particularly when they have not been in a while and their tan begins to
fade
.
"I always get into those phases though. I think it happens with everyone. Some people I wouldn't see them there for a while and then I'd see them there every other day. You're just kind of like I have to get back into it… Once I go and I start getting color I'm there every other day. It's just getting me to go, that's the problem… There are some months actually where I haven't gone at all but then there are some months where I'm there 3 times a week…" (Interview 6)
Frequent
tanners
,
like
first time
tanners, are motivated to tan in order to
get color
prior to events but their primary reason for tanning differs in their desire to tan on a more regular basis in order to
maintain color
.
"[They are] the people with no specific purpose. No agenda. They just want to be tanned…It's not for a specific reason." (Interview 6)
Some
frequent tanners
perceive an added benefit of IT related to
relaxation
.
"You'll have the people who…they turn it into whatever they want. I mean, they don't always necessarily come for the color… [they] come in for that 20 min of peace…they come in, they go right to sleep, they know they're going to go right to sleep. They take a nap." (Interview 2)
Educating guests on the tan process
In responding to grand tour questions about the experience of being in a salon, Jessica talked at length about interactions between the sales associates and guests before and after IT sessions. A theme of these interactions that began to emerge in the first interview related to the sales associate
educating guests
about the
tan process
. The
education
of
first time
tanners was an important focus of sales associates and often occurred as part of a salon tour. During a typical tour, a sales associate shows the tanner the salon,
explains
the different types of available tanning beds and lotions, and provides information about the
tan process.
"…the first thing that we're instructed to do as soon as somebody new walks in is…give them a tour of the facilities… You stop in every single room… You show them the bed, explain what it does… You're basically just educating them when they first come in which would help them decide what is best for them and what they're looking for." (Interview 3)
Educating guests
on the process of
building a great looking tan
involved explaining two fundamental processes of tanning:
getting color
and
building tolerance.
Further, the purpose of the various types of tanning beds were described relative to their ability to either produce
color
or
build tolerance
with these distinctions attributed to differences in the skin tan response to different types of bulbs with various types of UV emissions. Tanners interested in getting a one-time tan for an event or maintaining a constant tan could simply use beds and lotions designed specifically for enhancing skin
color
. The informant referred to this type of bed as a
bronzing bed
or more commonly by its manufacture's product name and stated that
bronzing beds
were less likely to cause sunburns compared to other types of beds.
"The bronzing one has the least potential to burn you and that's actually the more expensive bed and the bigger bed because that's the one that actually gives you the color… If they have a special when you first sign up, it's usually something like 7 days in any bed, that's the one that people go into just because they come to tan and they want to see immediate color and that won't burn you…" (Interview 1)
Once a tanner attains her desired
color
, she has the option to
maintain
her
color
by keeping with a consistent tanning pattern in a
bronzing bed
. However, tanners who desire to
build their color
to an even deeper tan face a potential problem because using the same bronzing bed repetitively can lead to a color
plateau.
A
plateau
describes the point at which a particular bed can no longer make tanners darker than their current color.
"You can go in the bronzing bed probably 4 times in a row and you won't see any difference. You could go in there 10 days straight and you won't see any difference, you plateau." (Interview 1)
Tanners are told that if a tan plateau is reached they must use a different type of bed to further increase their tan level. The
melanin-building
bed is designed less for
building color
but for the purpose of
building tolerance
, defined by the informant as "how much [UV exposure] your skin can stand without burning".
Melanin-building
beds produce less color after a tanning session compared to
bronzing
beds but the salon claimed they build base skin melanin that can be later tanned in the
bronzing
beds. Guests are warned that there is a greater potential of burning in a
melanin-building
bed compared to a
bronzing
bed. The process of
building tolerance
involves
starting off low
with a small amount of time in the
melanin-building
bed (relative to the manufacture's maximum recommended exposure time) to avoid burning and
bumping up
the number of minutes in the bed with an ultimate goal of reaching the
max time
allowed in the bed.
"So when you go into the melanin bed, you don't really see much difference and it does have the most potential to burn you so that's usually the one you're not going to pass more than 2 min at a time, starting low. That one brings about the melanin in your skin so that when you go into the bronzing bed, that bed can then bronze that melanin so that you are no longer plateaued." (Interview 1)
By framing tanning as a
process
, salon sales associates convey the message that optimal tanning occurs with frequent visits and
rotating
with different beds and lotions rather than occasionally using a single tanning bed (Fig.
2
).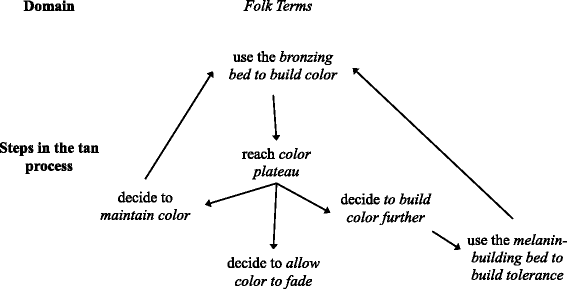 Once someone understands and experiences this process, they can determine when they reach a
color plateau
after multiple uses of the
bronzing
bed and then decide whether to
maintain
the color by continuing to return to the
bronzing bed
, stop tanning and allow their tan to
fade
, or
build color further. Building color
necessitates
rotating
to the
melanin-building
bed to
build their tolerance/melanin
and then returning to use a
bronzing
bed to
maximize
their tan by tanning the newly acquired melanin. Once a new
plateau
is reached at a darker tan level, tanners once again decide whether to
maintain
the color,
build it
further, or allow it to
fade
by taking a few days off from the tanning salon. The following summation of the
tan process
was provided by Jessica when asked to role play what she might recommend to a
first time
tanner who wanted to
get some color
in the month prior to his wedding.
"I would probably say, You have a month so go into the [bronzing bed: informant used the manufacturer's product name which is withheld], start building your color within your first three times and then at that point you would rotate to the [melanin building bed: product name withheld]…and somewhere in the middle of the month, throw in a few more [bronzing bed sessions], still rotate, somewhere at the end of the month or pretty much your last three times of coming, you want to go out with a bang, your three [bronzing bed] sessions and that way you would not only maintain the color that you started in the beginning but you would build on it, because all of that rotating is building the melanin that the [bronzing bed] is going to tan. Then doing the same thing and at the end, the last three times, you get all that color." (Interview 5)
Building rapport
Another important task for salon associates was to develop
rapport
with guests which for
first time
tanners involved determining their reasons for coming in to the salon or their
needs
:
"…you are personalizing it [tanning] and customizing it to them. So you need to know what their needs are, that's your rapport with them… your rapport is kind of like getting to know them… sort of saying like 'What are you tanning for?'. 'Oh, for like a wedding?'. And then that's when you'd be like 'Oh, whose wedding?'… it's not just about tanning so that's where the rapport comes in…they feel it's more personal for them which also makes the sales pitch easier because at least they were comfortable with you." (Interview 6)
The assessment of
needs
often includes asking about
guests' tan goals
, described as their desired skin tone or shade to achieve from tanning. In determining
tan goals
, Jessica would often ask guests about their desired tan relative to her own.
"I'll use my own skin as a reference… 'Do you want to be my color, darker than me, lighter than me?'. And that just basically helps me plan out kinda how long they need to be coming. And, how often they need to be coming. If you don't want to me darker than me, you don't have to come in as often … So I could tell you to come in every 3 or 4 days because you're not trying to get that dark. But you still want to be progressing because you don't want to get to your color and stop and have 2 weeks before your wedding and fade all of that time because you just, color does fade if you don't maintain it." (Interview 2)
The assessment of
needs
and
tan goals
allows the associate to develop a personalized
plan
for each
first time
tanner. The tan
plan
can involve detailed guidance about which beds to use and incorporates information from the tan tour. Sales associates claim that following the
plan
will help to keep guests safe from burning by providing more control over their exposure.
"I've kinda created almost like a calendar or a timeline. Like you know, 'Come in every 2 days, start with this bed, see how you react. These are your options based off of what that does to you'. Kinda just progress… And then, they're like 'Oh, that was so helpful!'" (Interview 2)
Once
first time
tanners have some experience, and to a lesser extent with
frequent
tanners, the
rapport
process evolves into providing ongoing advice and support related to tanning. This may include helping guests determine which bed they should use, how long they should tan, and advice about using tanning lotions.
Rapport
also relates to getting feedback about their tanning experiences after an IT session to ensure that they had a good experience.
"After they've come in a few times…I would say 'What do you want to do today?' That's usually something that came out of my mouth constantly… if I was the one that made the plan for them I you know would kind of ask if they're keeping on track or what they did last… And at that point some people remember. They're like 'Well today I should do this?' and the plan's not always perfect. Today you should do this but how did you react to it, that bed last time. So you adjust as you go…You're kind of guiding them because they don't always know that you don't have to stick to the exact plan." (Interview 6)
Working out the pricing
There are multiple options for paying for tanning salon services. The first option is to pay for a single session at a time. Another are packages that allow guests to purchase a bulk amount of tan credits to pay for the cost of the session at a price that is cheaper than paying for a single session (for example, purchasing 50 tan credits for the price of 40 U.S. dollars). Memberships allow for unlimited use of certain types of tanning beds that are sold on a monthly basis with a single fixed price. Memberships are often sold as attractive options to guests because the per-price fee for each session ends up being much less than purchasing a comparable amount of tanning sessions using packages or single sessions. In Jessica's experience, a guest who tans multiple times per week would end up paying about half as much per tanning session with a membership compared to paying for single sessions. Memberships often include up-front sign-up fees and automatic re-enrollment via credit card charges until a guest cancels the membership, which both may promote guests sticking with packages for an extended period of time.
Jessica used the terms sales pitch and work out the pricing when describing how sales associates advise guests on how to spend their money once at the salon. In deciding what to purchase, the guest has to choose both the type of tanning bed and also their payment option. An important purpose of the salon associate educating guests about the tan process and working to develop rapport and a tan plan is to make it easier to sell tanning memberships and packages rather than single sessions.
"You explain everything to them during the tour just to see if there's really you know no questions when it comes to a particular plan for them. It's kind of like 'Ok, well you're going to need this bed this day and then like a few days later you're going to switch to this bed'. And they're going to know why because you just explained it to them. And then they're also more open to the packages that you give them because they understand that they need to be doing more than one bed. So it's not like 'Oh my god, I'm just going to do the cheaper bed' because I just explained to them why it's not going to help you." (Interview 6)
Jessica shared that although she typically only
pitched
memberships to guests who clearly planned to tan for multiple months at a time, salon management encouraged associates to sell as many memberships as possible and only sell single sessions as a last resort. Several aspects of the memberships made them difficult to cancel and served to keep newly enrolled guests returning. For example, her salon's policy was that memberships could not be canceled within the first 30 days, which effectively automatically enrolled those who purchased new members into at least a 2-month commitment. Some salons also established cancellation policies that involved writing letters or making phone calls to cancel memberships. Further, guests who had canceled their monthly memberships in the past were required to pay an additional enrollment fee each time they signed up for a new membership. Instead of canceling their memberships in times of non-use, which would incur new enrollment fees, users could
freeze
their membership by paying a small monthly deactivating fee and reactivating it at a later date. Jessica described how being enrolled in a membership may also pressure IT users into going tanning even when they might not feel the desire to go so they would feel like they were
getting their monies worth
.
"… today I did not feel like it so I did not go tanning but I wanted to yesterday and then today I was like I don't really feel like it so I didn't go. But I was too lazy to go so I guess the ones that do come frequently are not lazy. Probably want their monies worth. [Interviewer question: Their monies worth?] Yeah, I tell myself, I haven't gone in September and it's September 17 so I paid for the month and I haven't gone for 17 days so I'm like I should really get my monies worth so then yesterday I'm like 'Ok I'm going to go'." (Interview 6)
S
pecials
and
deals
describe a variety of sales and discounts designed to either attract
first time
tanners by discounting single session pricing surrounding prom season or temporarily reducing the price of memberships. A less obvious benefit of these specials is they also encourage frequent IT users who have not tanned for a short time or may have frozen memberships to return to the salon. During our final interview, Jessica said that she had not been tanning for several weeks but had maintained her account in a reduced price or frozen state. In response to a question of whether she planned to tan again in the near future:
"Probably…usually what gets me to go back is like a sale. So that becomes my motivation, the motivation that I'm missing right now…[Interviewer: 'So with a sale you'll be able to get a better bed for…'] Yea it's cheaper because the upgrade price is usually lowered or they'll have some type of package or like 7 days in any bed for however much money. And once you do that and they start to see color then they're like 'Ok, I should probably keep going to keep the color I just paid for'. And then it starts up again. That's how they reel you in." (Interview 6).
Discussion
The goal of this study was to explore the experiences and insider cultural knowledge of a young woman engaged in regular IT. The ethnographic interviewing approach provides a detailed understanding of the insider knowledge and contextual factors related to IT and reduces potential bias introduced by researchers using more structured data collection approaches like surveys. The study thesis was that interactions between IT patrons and tanning salon employees serve to encourage continued use of IT. The informant described educating first time tanners about the tan process which involves tanning for the purpose of both building immediate color as well as building tolerance (i.e., tanning in a bed that produces less immediate color but allows for greater later development of color). As a salon employee, she also sought to build rapport with patrons by encouraging them to identify their tanning goal and develop a tanning plan. The informant believed the process of educating guests and building rapport made it more likely that patrons would be willing to purchase expensive salon memberships that encourage repeated tanning.
Conclusion
This article provides novel insights into the transmission of knowledge between a tanning salon employee and salon patrons. Our findings suggest employees may be trained to create an understanding of tanning as a complex process among patrons that involves repeated visits to the tanning salon. This may have the effect of encouraging first time tanners who are experimenting with tanning to transition to more frequent tanning. This research is suggestive of the need for future research to better understand the transition from first time to frequent IT use as well as suggests avenues for enacting policy efforts that may reduce IT use.
Declarations
Acknowledgements
n/a
Funding
This research was supported in part by a grant from the National Cancer Institute to Jerod Stapleton (K07 CA175115). The sponsors did not influence the design or conduct of the study, the collection, management, analysis or interpretation of the data, or the preparation, review, or approval of the manuscript.
Availability of data and materials
The datasets generated and/or analyzed during the current study are not publicly available because they are transcripts of multiple in-person interviews that, although confidential, contain information that could be used to identify the participant. Portions of the transcripts may be made available from the corresponding author on reasonable request.
Authors' contributions
JS and BC designed the study and interview guides. JS conducted the interviews and conducted the preliminary analysis and interpretation. JS and BC worked together to finalize the data interpretation. JS drafted the manuscript and BC reviewed and revised it. All authors read and approved the final manuscript.
Competing interests
The authors declare that they have no competing interests.
Consent for publication
Consent for publication was obtained in two ways. First, the study informant signed an informed consent form that stated that the researchers would use her anonymous data in research manuscripts. Second, the informant was sent a copy of the paper as submitted to the journal via email and was asked to review the paper and provide her consent to publish the information including the anonymous quotes. The informant agreed to the publishing of the paper and the quotes in an email reply.
Ethics approval and consent to participate
This research was approved by the Biomedical and Health Sciences Institutional Review board at Rutgers, The State University of New Jersey. Prior to beginning the first interview, the interviewer gave the informant a printed informed consent form, explained important elements of the consent form to the informant, and answered the informant's questions about participation. The informant signed the informed consent form and also indicated her permission to audio-record the interviews.
Publisher's Note
Springer Nature remains neutral with regard to jurisdictional claims in published maps and institutional affiliations.
Open AccessThis article is distributed under the terms of the Creative Commons Attribution 4.0 International License (http://creativecommons.org/licenses/by/4.0/), which permits unrestricted use, distribution, and reproduction in any medium, provided you give appropriate credit to the original author(s) and the source, provide a link to the Creative Commons license, and indicate if changes were made. The Creative Commons Public Domain Dedication waiver (http://creativecommons.org/publicdomain/zero/1.0/) applies to the data made available in this article, unless otherwise stated.
Authors' Affiliations
(1)
Rutgers, The State University of New Jersey, Rutgers Cancer Institute of New Jersey, New Brunswick, USA
(2)
Rutgers, The State University of New Jersey, RWJ-Family Medicine-Research, Institute for Health, Health Care Policy and Aging Research (IFH), New Brunswick, USA