Research article

Open Access

Open Peer Review
This article has Open Peer Review reports available.
Subliminal versus supraliminal stimuli activate neural responses in anterior cingulate cortex, fusiform gyrus and insula: a meta-analysis of fMRI studies
Received: 8 April 2014
Accepted: 13 November 2014
Published: 11 December 2014
Abstract
Background
Non-conscious neural activation may underlie various psychological functions in health and disorder. However, the neural substrates of non-conscious processing have not been entirely elucidated. Examining the differential effects of arousing stimuli that are consciously, versus unconsciously perceived will improve our knowledge of neural circuitry involved in non-conscious perception. Here we conduct preliminary analyses of neural activation in studies that have used both subliminal and supraliminal presentation of the same stimulus.
Methods
We use Activation Likelihood Estimation (ALE) to examine functional Magnetic Resonance Imaging (fMRI) studies that uniquely present the same stimuli subliminally and supraliminally to healthy participants during functional magnetic resonance imaging (fMRI). We included a total of 193 foci from 9 studies representing subliminal stimulation and 315 foci from 10 studies representing supraliminal stimulation.
Results
The anterior cingulate cortex is significantly activated during both subliminal and supraliminal stimulus presentation. Subliminal stimuli are linked to significantly increased activation in the right fusiform gyrus and right insula. Supraliminal stimuli show significantly increased activation in the left rostral anterior cingulate.
Conclusions
Non-conscious processing of arousing stimuli may involve primary visual areas and may also recruit the insula, a brain area involved in eventual interoceptive awareness. The anterior cingulate is perhaps a key brain region for the integration of conscious and non-conscious processing. These preliminary data provide candidate brain regions for further study in to the neural correlates of conscious experience.
Keywords
Subliminal
Supraliminal
Activation Likelihood Estimation
ANterior cingulate cortex
Fusiform gyrus, Cingulate cortex
Insula
Background
Recent brain imaging evidence suggests that subliminal stimuli can alter behavior, via non-conscious processes (Muscarella et al. 2013; Eimer & Schlaghecken 2003). Neural models of behavior elicited by non-conscious stimuli implicate the prefrontal and cingulate cortices in the regulation of subcortical brain regions linked to impulsive and largely non-conscious stimulus perception (Ochsner et al. 2012). In this way therefore, one might suggest that conscious cognitive processes, such as decision-making and working memory that are associated with prefrontal cortex networks, are influenced by non-conscious experiences. William James and Carl Lange, who were the first to provide theories for non-conscious processes in the decision making capabilities of the human mind, postulated the importance of physiological mechanisms that are not at first consciously perceived, e.g. that physiological changes in the body following an event lead to a response that drives one's conscious decision-making processes (Cannon, 1927). Some of James and Lang's views are in line with contemporary notions of the unconscious mind, and some of these theories are beginning to be reflected in neuroimaging studies (19, 21, 52).
Processing of non-conscious physiological responses in the body by the cortex is a view that has been incorporated into many contemporary theories. One example by Damasio (54) and Tranel (55) proposes that emotions, which help us to make decisions, are cognitive stories constructed by the cortex in a particular context to explain bodily arousal; a view reflected in their recently updated Somatic Marker Hypothesis, highlighting the importance of brainstem (e.g. the periaquaductal gray) activation in conscious experience (Damasio 2010; Panksepp 2011). Perception of heart rate variability, a largely automatic physiological process, can also influence the modulation of cognitions and emotions (Kim et al. 2013). Others suggest overlapping but different neural circuitry in consciousness, incorporating brain processing in both non-conscious subcortical and conscious prefrontal regions respectively (Ochsner et al. 2012). Against this background, non-consciously perceived stimuli we hypothesise, should therefore activate different brain regions to stimuli that are consciously perceived.
A recent qualitative review of subliminal findings in functional Magnetic Resonance Imaging (fMRI) research reports that non-consciously perceived stimuli can influence perceptual, lexical and semantic processing, but that the neural response to subliminal stimuli depends on the strength of stimulus presentation, as well as individual differences in threshold for conscious perception (Kouider & Dehaene 2007). Furthermore, this review distinguishes between subliminal and preconscious awareness, which may be reflected in varying degrees of cortical versus subcortical recruitment, although the various paradigms used to measure this limit the conclusions. Another recent review revealed that the non-conscious processing of motor responses involves the precuneus and supplementary motor areas, whereas subjective experience of voluntary action may involve fronto-parietal network activation (D'Ostilio & Garraux 2012). A recent review of electrophysiological evidence of brain function shows that error detection, a psychological function often associated with the anterior cingulate cortex (ACC) occurs non-consciously (Shalgi & Deouell 2013). Thus, there is now ample neurobiological evidence to suggest that conscious and unconscious processing may have some overlap, but that the origins may occur independently and in specific brain areas. However, there has been no meta-analysis of fMRI studies that measure different degrees of conscious perception using the same stimulus.
Subliminal neuroimaging paradigms using masked and thus non-consciously perceived stimuli provide a potential method to progress knowledge of the neural correlates of non-conscious, primary processes in the brain. For example, a recent meta-analysis of functional fMRI studies has shown that subliminal arousing (versus subliminal neutral) stimuli evoke distinct activations in primary visual areas, somatosensory regions, implicit memory and conflict monitoring systems independent of conscious awareness of the stimulus (Brooks et al. 2012). This large meta-analysis demonstrated a distinct lack of prefrontal cortex activation in response to non-consciously perceived stimuli. However, this review did not explicitly analyze differential neural activation to the same conscious, versus - unconsciously perceived arousing stimuli, which would go some way to delineate which regions are involved in conscious processing. While there is variability in fMRI methods, in terms of the contrasts applied, participants studied, stimulus presentation employed, coordinate systems adopted (e.g. MNI, Talairach, AFNI), statistical analyses used, a basic meta-analysis of fMRI data can yield useful data with Activation Likelihood Estimation (ALE) (Laird et al. 2005; Eickhoff et al. 2009; Eickhoff et al. 2010; Turkeltaub et al. 2011). ALE is a method that is currently being used extensively in the neuroimaging field. However, no meta-analysis has yet examined differential neural activation in fMRI studies measuring conscious (supraliminal) versus unconscious (subliminal) perception of the same stimulus. By doing so, we might provide a preliminary delineation of activated brain regions associated with conscious versus non-conscious perception, to guide further studies in the field.
Here, we are the first to conduct an exploratory analysis of brain regions in healthy subjects that are activated to subliminal and supraliminal stimuli. We use the ALE approach to meta-analyse fMRI studies reporting neural activation in response to both the subliminal and supraliminal presentation of the same stimulus. Specifically, we meta-analyse only those fMRI study publications that used the same stimuli (but at different perception thresholds) with the same participants and the same experimental conditions within the same publication. In all studies included, subliminal perception was confirmed by a forced choice task. This meta-analysis differs from our recently published meta-analysis where only fMRI studies using subliminal stimuli (arousing versus neutral) were included with no activation to supraliminal perception (Brooks et al. 2012).
By contrast, this meta-analysis attempts to answer a different question: how does conscious cognitive modulation of a stimulus, relative to the same stimulus being perceived unconsciously, alter brain activation? By illustrating here the core clusters of neural activation across studies that contrast the level of subjective awareness of a stimulus, we aim to delineate the regions associated with conscious experience from regional activation associated with stimulus perception that is not at first consciously experienced. In line with contemporary theories and our recent meta-analyses, we hypothesise that consciously perceived stimuli will activate prefrontal and anterior cingulate cortex regions linked to conscious cognitive evaluation, whereas the same unconsciously perceived stimuli will provoke relatively greater activation in subcortical brain regions linked to implicit memory and arousal, such as the hippocampus, amygdala, striatum and primary visual cortex.
Results
Meta-analysis one: subliminal stimulation > supraliminal stimulation
From 192 foci, 154 subjects and 9 separate experiments, 3 significant clusters were found that survived the cluster level inference threshold. Cluster one was found in right fusiform gyrus/middle occipital gyrus (x = 47, y = −71, z = −3) in BA 19, cluster two was found in right caudal anterior cingulate cortex (x = 2, y = 32, z = 36) in BA 32 and cluster three was found in right insula (x = 37, y = 4, z = −5) in BA 13.
Meta-analysis two: supraliminal stimulation > subliminal stimulation
From 320 foci, 188 subjects and 10 separate experiments, 2 significant clusters were found that survived the cluster level inference threshold. Cluster one was found in left anterior cingulate cortex (x = −2, y = 34, z = 18) in BA 32, cluster two was found in mid-caudal anterior cingulate cortex (x = 0, y = 19, z = 31) in BA 32.
See Table
2
and Figures
2
,
3
and
4
.
Table 2
Results of the ALE analyses, with significantly activated brain regions
Cluster a

Anatomical Label

Side

Brodmann area

Peak voxel coordinates b

Cluster size (mm 3)

ALE value (×10 −2)

x

y

z

Subliminal > Supraliminal

1008

1

Fusiform Gyrus

Right

19

47

−71

−3

1008

4.12

2

Caudal Anterior Cingulate Cortex

Right

32

2

18

36

920

2.52

3

Insula

Right

13

37

4

−5

344

2.30

Supraliminal > Subliminal

4168

1

Anterior Cingulate Cortex

Left

32

−2

34

18

1464

6.20

2

Caudal Anterior Cingulate Cortex

Left

32

0

19

31

640

4.59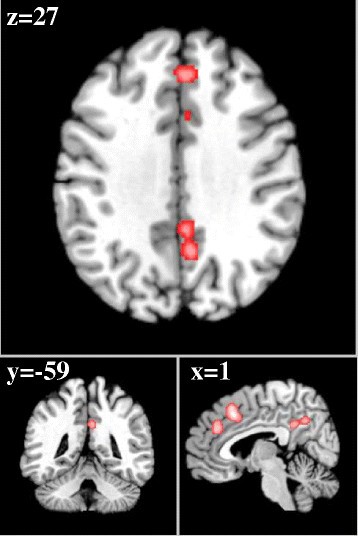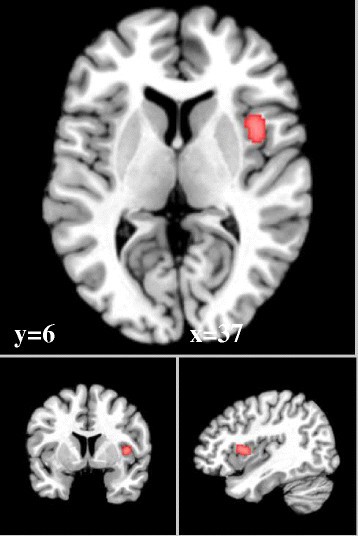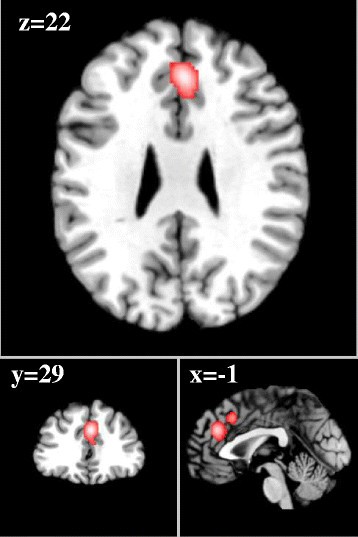 For a schematic illustration of where these regions are in the brain, and possible connections, see Figure 1.
Discussion
We present preliminary meta-analyses of fMRI studies that compare the effects of subliminal versus supraliminal presentation of the same stimulus on brain activation. When interpreting these findings, the categories and differences between visual and tactile stimulation must be considered with caution, as they may influence the data observed. Specifically, left anterior cingulate cortex (ACC) was most significantly activated across all studies when supraliminal processing was the reported activation; the right fusiform gyrus/middle occipital gyrus and right insula when subliminal processing was reported, and the caudal anterior cingulate cortex to both levels of perception. Additionally, it appears that subliminal stimulation most often activates regions of the right hemisphere, whereas in contrast, supraliminal stimulation appears to activate the left hemisphere. This is intriguing given that the right hemisphere is typically associated with emotional processing, whereas the left hemisphere is linked to language processing and higher level emotional processing that is largely consciously perceived (Bauer et al. 2014; Shobe 2014). This could suggest that conscious processing is linked to left hemisphere, language-based processing, such as cognitive labeling, whereas the right hemisphere maybe more associated with non-conscious processing of one's 'gut-feelings' and instincts. However, the different stimuli included in these meta-analyses may have influenced the results, and were: auditory tones (although these were under-represented in the final meta-analysis); rectal stimulation; famous, angry and disgusted faces and sexual images. Nevertheless, all of these types of stimuli have in common that they stimulate sensations in the peripheral nervous system.
Our hypotheses, that consciously perceived stimuli activate prefrontal cortex regions, in comparison to unconscious perception of the same stimuli, were partially supported, in that the ACC can be regarded as part of the prefrontal cortex system. However, we did not, as expected, find subcortical regions (e.g. amygdala, hippocampus, striatum) being activated to non-consciously presented stimuli, but instead found that the right fusiform gyrus and right insula cortices were most significantly activated by subliminal stimuli. However, again it must be considered that these observations could be due to the type of stimuli used (e.g. faces and rectal stimulation), rather than as a consequence of variance in conscious perception. Most other fMRI studies using subliminal paradigms compare subliminal arousing to subliminal neutral stimuli, but the studies included in this review only compared supraliminal and subliminal presentation of the same stimulus within the same study (Brooks et al. 2012). The preliminary findings we present here for the first time compare neural activation to conscious and unconscious processing of the same stimulus, either in a direct comparison of subliminal versus supraliminal stimulation, or including subliminal versus - and supraliminal versus neutral contrasts using the same stimulus within the same study. Our meta-analysis lends support to some current theories about the neural correlates of consciousness, and also has the potential to progress our understanding of psychological processes, by providing a priori brain regions involved in the delineation of automatic non-conscious states from conscious experience. Next, we discuss these findings in relation to the different levels of perceptual awareness, and theories of consciousness.
Conclusions
While our data is preliminary, it suggests that perception of non-consciously perceived stimuli activates anterior cingulate cortex (ACC) and insular cortex, to form a basis for conscious perception. Activation of primary visual areas by non-consciously perceived stimuli is perhaps driven by a bias for these studies to use images of emotional faces, and so more fMRI studies are needed to compare subliminal and supraliminal presentation of other types of stimuli in different modalities. After further fMRI studies comparing the neural correlates of subliminal versus supraliminal stimulation, meaningful conclusions are more likely to be drawn about brain systems involved in unconscious perception.
Declarations
Acknowledgments
This work was supported by the Brain Behaviour Initiative, Cape Town, the Claude Leon Foundation, South Africa, and the Swedish Research Council.
Authors' Affiliations
(1)
Department of Psychiatry and Mental Health, University of Cape Town, Cape Town, South Africa
(2)
Department of Neuroscience, University of Padua, Padova, Italy
(3)
Lab of Action and Body, Department of Psychology, Royal Holloway, University of London, London, UK
(4)
Department of Neuroscience, Uppsala University, Uppsala, Sweden
Copyright
© Meneguzzo et al.; licensee BioMed Central Ltd. 2014
This article is published under license to BioMed Central Ltd. This is an Open Access article distributed under the terms of the Creative Commons Attribution License (http://creativecommons.org/licenses/by/4.0), which permits unrestricted use, distribution, and reproduction in any medium, provided the original work is properly credited. The Creative Commons Public Domain Dedication waiver (http://creativecommons.org/publicdomain/zero/1.0/) applies to the data made available in this article, unless otherwise stated.